NEETASCREEN® steel fencing is one of the most versatile and durable fencing systems you can buy.
Our original fence design and still popular decades later. The vertical ribbed panels made from 100% Australian COLORBOND® steel blend seamlessly in any neighbourhood and provide strength and good looks that last and last.
LYSAGHT SMARTASCREEN® Fencing.
Keeps neighbours happy with its unique profile giving the same stylish look no matter which side of the fence you are on. Its clean, attractive lines have a subtle, textured finish that looks right at home in any setting.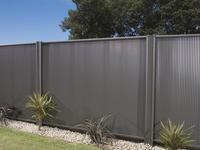 LYSAGHT MINISCREEN® Fencing
With COLORBOND® steel infill sheets in the classic LYSAGHT MINI ORB® profile you've got an eye catching fence capable of enhancing any property.
Create a steel fence with a unique appearance that is at home in any setting – the distinctive fluting of infill panels framed by striking posts and rails combine to provide a truly attractive yet durable fence.